Advanced Screen Recorder
Advanced Screen Recorder / Record
Record
Set up the following parameters:
Ability to change the location of saved recordings.
The Format in which you want to save the recording
Set up Frame Rate up to 120.
Change the Quality of video recording: Original, 4K, FHD.



Advanced Screen Recorder allows selecting video output of your choice. By default, it is .MP4, but you can change it .FLV or .AVI by clicking the down arrow next to Format. You can also set the Frame Rate from 10 fps-120 fps and also change the size for your video from Original, 4K & FHD.




Ability to include/exclude the countdown before starting the video recording.



By default, you see a countdown of 3 seconds before the recording starts. If you want the recording to start right away, uncheck the option "Show countdown before starting the video recording."




Record from Microphone.
Record System Sound.

If you want to record sound from both system audio and microphone, select Record Microphone and Record System Sound.

Enable hardware acceleration.
Save an extra audio file while recording.
Auto Stop to schedule the time for ending the screen recording automatically. Users can stop the screen capturing based on exact time, specific duration or file size.
Auto Split to easily split and save the recordings in multiple files, according to the set minutes or file size.
Mouse Setting
By default, the mouse pointer does not appear during the recording. If you want to add it, check the box next to Show mouse pointer, below the Record tab under Mouse Settings. Alongside you can add the click sound effect, change the colour of right click/left click actions and more. Using this feature, users can easily understand troubleshooting videos.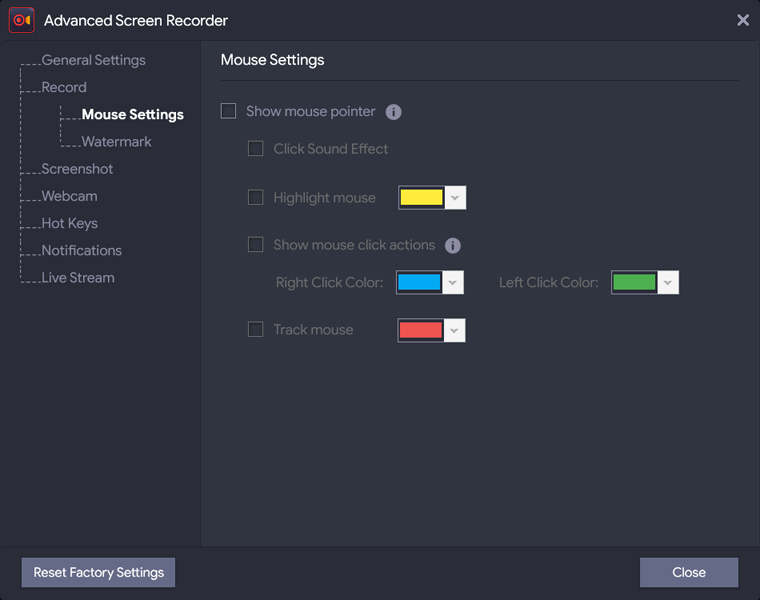 Watermark
The feature helps users to protect your videos from being copied. You even have the opportunity to customize a watermark as per your needs and preferences. They can even include a default one or customize the watermark in terms of text, image and colours.
Watermark feature is only available in PRO version.