Overview / User Interface
User Interface
Image Resizer a swift and speedy solution for image resizing. It has an intuitive user interface which makes photo and image resizing really simple and easy.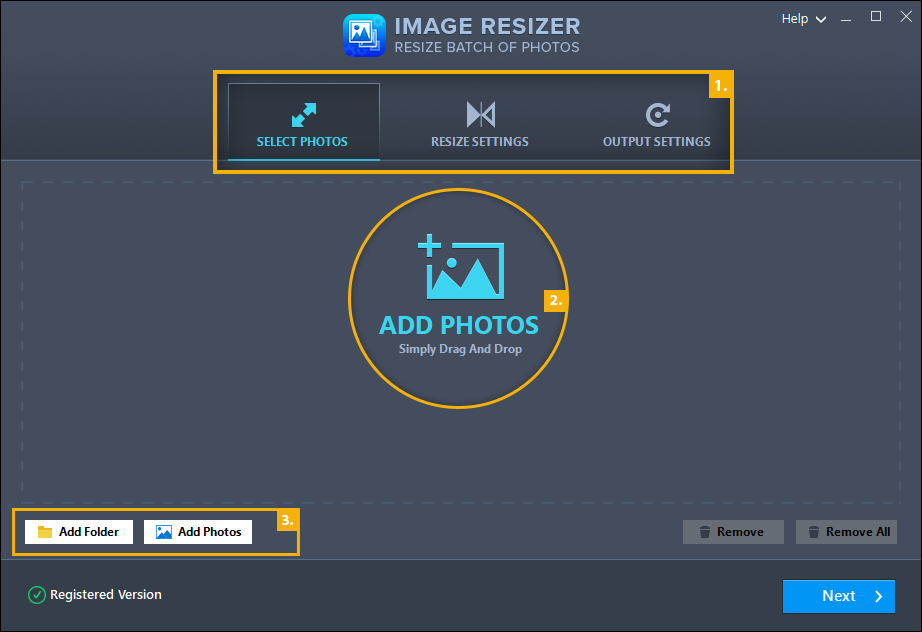 Powerful Image Compressor Tool:
Select multiple or individual photos, resize with the help of RESIZE SETTINGS option and select output format, file name via OUTPUT SETTINGS option.

Add photos for resizing in a simple drag and drop. You can either resize them one by one or in a batch.

Besides, drag and drop option, the tool also allows you to add photos individually, or an entire folder of photos for resizing by using Add Folder and Add Photos button.
Overview / System Requirements
System Requirements
Image Resizer one of the best resizing tool, used to batch resize photos, is compatible with Windows.
Operating System:
Windows 11/10/8.1/8 and 7 (Both 32 & 64 bit)
CPU:
1.6 gigahertz (Hz) or more
RAM:
1 GB
Disk Space:
250 megabytes (MB)
Overview / Uninstall
Uninstalling Image Resizer
To uninstall Image Resizer, follow the steps below:
1. Quit the application.
2. Click on start menu and type control panel.
3. In the new window that opens, look for Programs and Features option.
4. Next, locate Image Resizer > select the application > right click and from the context menu select Uninstall option.
These steps will help you uninstall the application and all its traces.
Getting Started / Launch the Application
Launch the Application
To resize images, first launch application and add photos to resize. To do so follow the steps mentioned below:
1. Click on Start menu.
2. Here, look for Image Resizer, double click on its icon to launch the program.
Getting Started / Add Photos or Select Photos
Add Folder / Add Photos to resize
Besides, drag and drop, you use any of the two options to add photos like - Add Folder, Add Photos.
1. Click on any of the option to add photos, as per your preference.
Select or unselect photos you want to resize
By default, all added photos are selected, if you don't wish to resize you need to deselect them.
Photos can be resized either in a batch or individually. Add Folder allows to add a complete folder with photos at once. Add Photos allows to add images one by one.
Getting Started / Resize Settings
Resize Settings - Image Resizer
Resize settings make photos rescaling simple and easy. You can use any of the available options to modify height and width of the image. Moreover, you can alter image configuration by keeping aspect ratio intact.
1. Resize Options
You can use various options like: Predefined size to resize image with the help of already suggested size. Additionally, can even customize the size either by using Custom Width X Height option, or Percentage of width X height. Also, you can save the customized settings for future use.
2. Rotate Options
Apart from Resize Options you get scaling option to rotate an image clockwise, anti-clockwise, 180 degrees or auto correct orientation.
3. Flip Options
Not only this, Image Resizer even provides you with the option to flip an image either horizontal or vertical. However, if you don't wish to flip you can use Keep Original option.
Getting Started / Output Settings
Output Settings - Image Resizer
After resizing the image, you can select: Output Format, Output File Name and Output Folder where you would like to store the resized image.
1. Output Format: You get various output formats to select from after resizing an image. Either you can keep the original format by selecting Retain the original format or can use Convert to following format option to choose the format in which you want to save the resized image.
2. Output File Name: Giving a new name to resized image helps to locate it easily. Using output image filename, you can add width, height, prefix or suffix to the original filename.
3. Output Folder: By default, resized images are saved under user/Image Resizer folder. If you want to save it at a different location, click on Browse to specify the location where you want to save resized image.
Getting Started / View Logs
View Logs - Image Resizer
Once the selected image is resized you can view the summary, where it shows total number of selected and resized images, original size and number of converted image.
1. View Logs or Summary - Here you can see time taken by the application to resize an image, rescaled size of the image, image resize information (if failed).
Complete Logs Details
Once image resizing is done to see the complete summary click on Show Log button.
2. View Logs or Summary - Here you can see, Input filename, Output filename, success or failed information, original size, new size, ratio and save space.